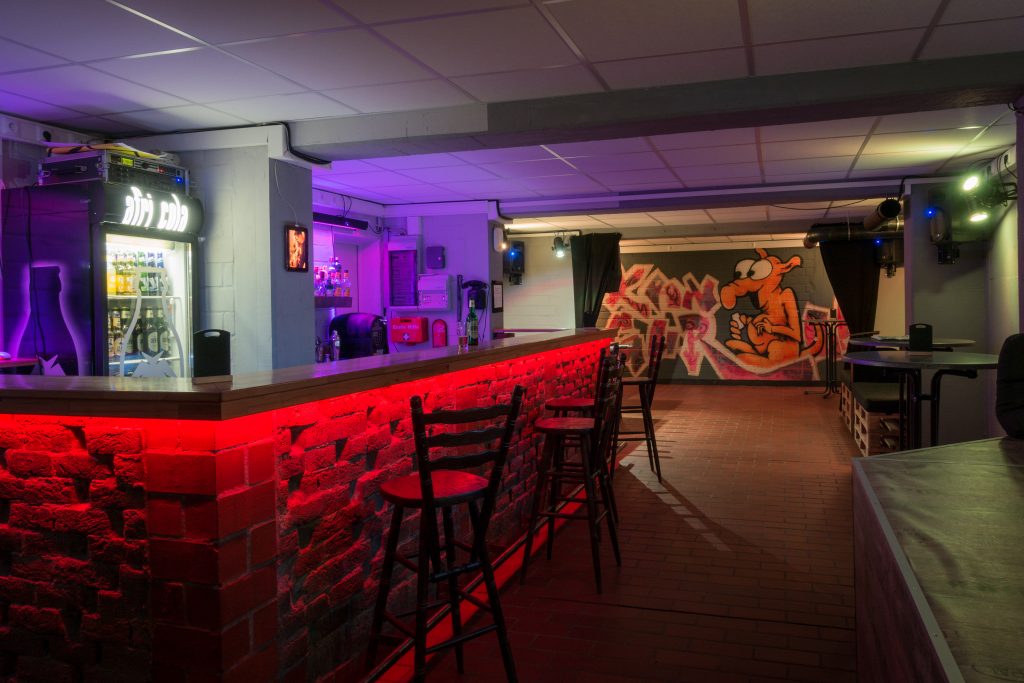 The KänGuruh is our dormitory bar and therefore also your party location right outside your front door. We (usually) open for you every Thursday at 21 o'clock. You want to have a party, catch up with friends over a beer, meet new people or just forget the stress of university life? Then you've come to the right place.
Content
---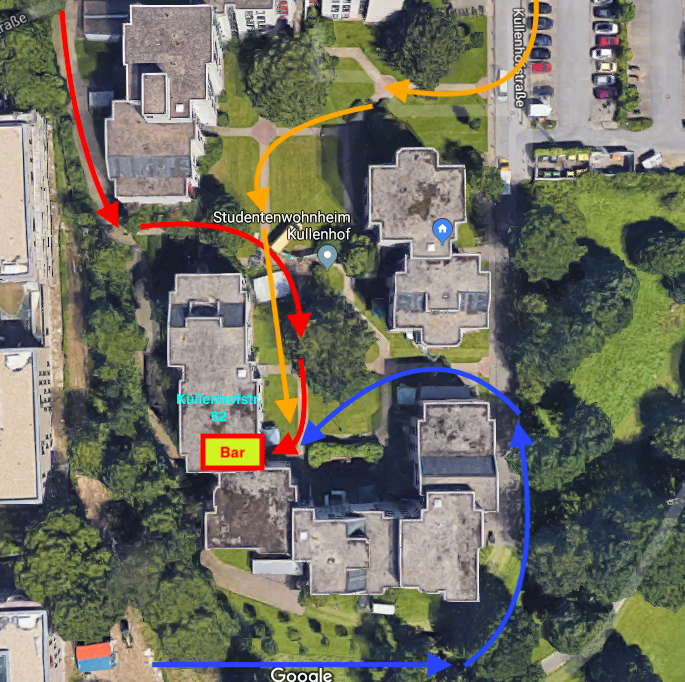 What's in the bar?
You will find the bar in the basement of house 4 (number 60). The main entrance is in the courtyard, slightly hidden but well lit in the corner between houses 3 and 4 (see satellite photo). You can also enter the bar via the basement corridor in house 4. We have just about everything your heart desires:
Music and lighting system
beer tap
various drinks (several beers, cocktails, non-alcoholic, long drinks, shots and often specials)
Dance floor
Kicker & Darts
2 pinball machines (Taxi & Indiana Jones)
roofed smoking area just outside the door
separate toilet rooms
nice people, lots of good humour and much more
---
Events
Bar evening
At irregular intervals, so-called outdoor bars are currently taking place in the inner courtyard. Keep your eyes open, it could be happening again soon!
Every Thursday at 21 o'clock Sometime soon, our doors will open again to help the thirsty residents to beer, cocktails and other drinks. To make sure you can still pay your tuition fees next semester, we guarantee low prices. The bar is run by your fellow residents from the Käng-AG on a voluntary basis, but any resident can stand behind the bar! If you'd like to take over the bar yourself on a Thursday, you are welcome to sign up on the list in the bar or simply write us . Then you can organise a bar evening according to your wishes and, of course, drink freely! We are happy to support you as much as you like, so you won't be alone behind the bar all of a sudden.
Bar rental

— Currently nobody is ALLOWED to enter the bar! —
The StW finally explained us, why they made us close the bar at the end of February.
Apparently, in the last 30-35 years, nobody adjusted the city plans of the dormitory, which is why the rooms, we used as a bar in the last 30 years, are noted in the city's archives as "storage rooms". Therefore, any use besides storing stuff, is illegal. To change that entry, the StW has to get a fire inspection, since this is especially a matter of fire safety and emergency exits.
So basically, currently, we turn down every enquiry for bar rentals.
We have decided to allow bar hire every weekend, while there is no "regular" bar evening! You can use all the advantages of the bar – our grandiose party cellar – for private parties again. Contact us so we can arrange a date. Bar rentals are generally possible on Friday, Saturday and Sunday evenings. However, with regard to the neighbouring dormitory residents, the bar won't be rented out more than once per weekend. These are the most important points:
IMPORTANT ADDITION DUE TO CURRENT SITUATION: According to the reglementations the beginning of the year events have to be held under 2G+ conditions (= only negatively tested participants, who are in addition vaccinated or recovered from an covid-infection) with atmost 10 guests, a number which might be increased as permitted by the latest reglementations of the 28th February.
Costs: 60€ rent + 100€ deposit
The rent includes:

a party cellar all by yourselves
all the equipment of the bar
Spotify premium access to have the best music playing over the sound system.

Drinks are not included, but you can buy them at cost price directly from the bar stock (so you don't have to lug them around 😉 )
The bar is usually handed over in the evening at around 5 p.m. and should be return by 8 p.m the following day (exceptions can be agreed upon).
The facilities must be left properly cleaned (wet wiped!).
Here you can see, which week-ends are still free
Here you'll find the standard rent contract
Sunday Bar
The bar opens on Sundays, too! There's no wild party like on Thursdays, but you can enjoy homemade crepes in a cozy atmosphere. There's also free coffee and tea. In winter you can even get some delicious mulled wine (definitely cheaper than any Christmas market). From time to time, you can join the traditional watchalong of "Sendung mit der Maus". Since the bar is currently closed, join us in the common room below house 3 instead!
Game Night
If you're not the party type, that's no problem. Just come to the games night instead. It takes place every Monday from 8:00 pm at the bar in the common room. There is a huge selection of board games that you can try out with other game enthusiasts. Of course, new games are always being added so that it doesn't get boring.
---
Other offers of the Käng AG
Drinks sale
You're thirsty, but you don't feel like dragging heavy bottles of water from the supermarket? No problem: every Monday evening from 20:00-20:15 and thursdays 19:00-19:15 there is a drinks sale in the bar. There you can buy water, Fritz Cola, beer and many other refreshing drinks at student prices. It's easy to pay with your student account.
Vending machines
If you need a refreshment in between, you don't have to wait for the drinks sale. We have a vending machine for drinks in the laundry room of house 3, and right next to it is our snack vending machine for snacks while studying and other practical things.
Drinks machine:
Fritz Cola + Fritz Limo
Wostock Sodas
Mate tea
different kinds of beer
and a lot more
Snack machine:
chocolate bars
salty snacks like potato sticks
YumYum (instant ramen)
detergent
condoms
LAN cable
and a lot more
Board game rental
It is possible now to borrow games as residents, which were otherwise only available for the game nights. Depending on the game, we ask you to pay a deposit of 10€-40€. We have a huge game collection! You can find it here. To rent games, just write to us via the contact form!
Due to reasons, we cannot offer board game rental at the moment. We're sorry.
---
Käng-AG
We from the Käng-AG (aka "bar committee") are your fellow residents who volunteered for the bar. We take care of the bar, the vending machines and everything that goes with it. We help out at the bar evening and have the responsibility over all the other events in the bar. Of course, we always try to throw you a great party, but should it be too loud in the bar, please contact us. If you have any questions for us, want to share ideas for new bar nights or want to join our AG, you can simply email us. We look forward to having a drink or two with you in the bar!
Contact
(The phone numbers can only be reached when the bar is open!)